Incorporating specialist technologies at Bourn Hall
---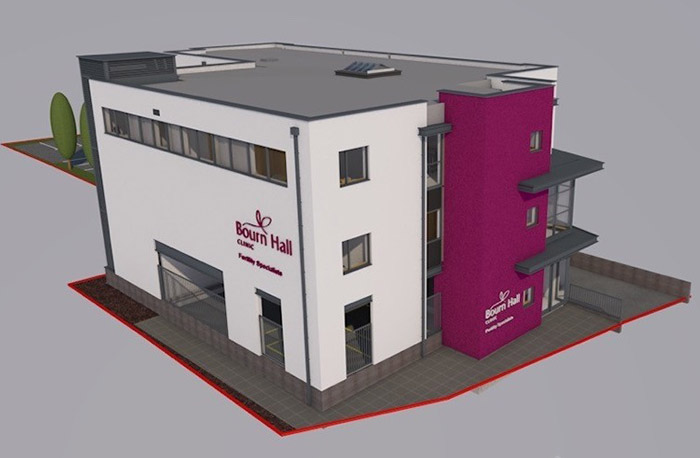 We were approached in 2014 by IVF pioneer Bourn Hall to develop a new clinic. The founders of the IVF process, Mr Patrick Steptoe and Professor Robert Edwards, were responsible for the conception of Louise Brown, the world's first IVF or test-tube baby in 1978. They established Bourn Hall in 1980, and since its foundation the clinic has assisted in the conception of over 10,000 babies. Bourn Hall sees private and NHS-funded patients across their UK locations in Cambridge, Peterborough, Colchester, Wickford, King's Lynn and Norwich. They also have partner clinics in Luton and Dunstable University Hospital, and Herts & Essex Fertility Centre.
We undertook a full site search within their chosen area identifying several viable options. The London Road site in Wickford was chosen because of its proximity to their current clinic, and easy transport links.
An experienced professional team was established to develop a high spec facility which met the exacting requirements of Bourn Hall. The team includes architects, BRP; construction company AW Hardy & Co.; M&E engineers, Qoda; employer's agent, Calfordseaden; structural engineers, D2E; and CDC, cleanroom design subcontractor.

Detailed design
The clinic design comprises three floors. The upper two floors will have a mixture of IVF laboratories and treatment rooms, along with administration, offices and consultation rooms. The ground floor will be used for car parking, loading areas and storage. There will be further car parking at the back of the site, accessed through the ground floor undercroft. The three floors and the undercroft cover 1,400 sq m.
With a build as specialist as an IVF clinic, there is much to consider from the patient experience to the technical requirements of laboratories. The new clinic will include a state-of-the-art embryology laboratory and a cryogenic store. Optimising the work-flow (patients, staff, materials and waste streams) in the building is key in order to comply with current guidelines for IVF units.
It was important to design a distinctive building with a welcoming interior which will provide a sense of wellbeing and confidence alongside the highly specialised clinical treatment spaces. All of Bourn Hall's existing clinics feature strong brand elements, such as the colour palette, to deliver a similar patient experience through the design of their facilities. This consistency will provide a relaxing, human atmosphere, and a place of support – the founding vision of Bourn Hall. For the new clinic, Bourn Hall's logo and primary brand colour will be prominent on the render of the building (see CGI above).

Behind the scenes
To operate successfully, IVF clinics require clean-controlled laboratories and rooms that offer the highest standards of air quality, temperature control and cleanliness.
Another key requirement was the need to minimise vibration to prevent impact to activities undertaken in the Embryology Clean-Lab. A concrete frame will be used to minimise general vibration, and pressure pads will be applied to equipment in the clean areas.

Next steps
The contractor starts on-site next month and practical completion is expected in February/March next year. The clinic will be open its doors to the public in the first half of 2018.
Are you looking to develop a facility that requires specialist technologies? Please get in touch to discuss your requirements. Contact Victoria Stacey: v_stacey@thpco.co.uk.
---