New £3.3m health centre will improve primary care in Vale of Neath
---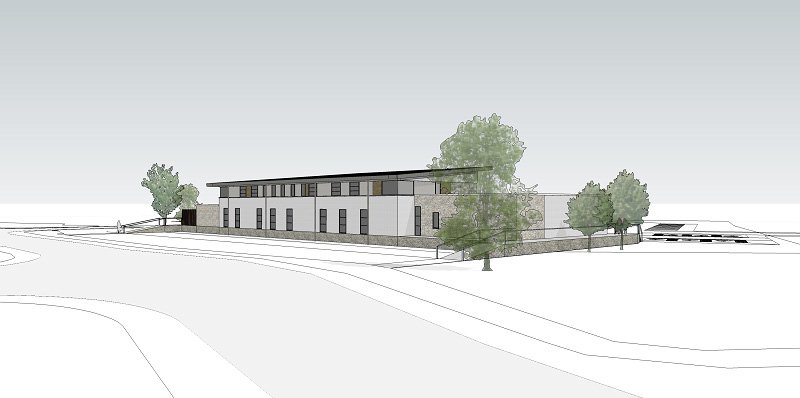 Work has started on a new purpose-built £3.3m centre on a regeneration site in Vale of Neath, which will relocate the Vale of Neath Practice, D.R. Cecil Jones Pharmacy and Health Board Services.
The development of this impressive and innovative 1,664 sq m scheme, developed by The Healthcare Property Company Wales (HPC Wales), is aimed at improving the quality of the patient's experience and treatment. It will provide 56 parking spaces for staff and patients including 6 disabled spaces.
Bringing all of these services together under one roof will substantially improve the primary care offering to the local communities of Glynneath, Cwmgwrach, Pontneddfechan, Ystradfellte, Rhigos, Resolven, Melincourt, Clyne and Abergarwed. The centre will have the flexibility to adapt for future health service requirements.
Senior partner Dr Paul Westwood said: "All of the GP partners and staff at the Vale of Neath Practice are delighted to witness the witness the commencement of work on the new health centre, which will undoubtedly be a vast improvement to the facilities that we are currently utilising to provide primary care services.
"Our registered patients in the various surrounding local communities have patiently waited more than 13 years for the development to reach this stage but there is a buzz of excitement within the locality as the new health centre 'dream' develops into a structural reality which will hopefully be open to our patients in early 2019."
The centre, which is being built on the former Washery Site at Aberpergwm is supported by the Welsh Government and is being developed in partnership with the Vale of Neath Practice and Abertawe Bro Morgannwg University Health Board. The project also has the full backing of ABM Community Health Council.
The building has been designed by architects Austin-Smith:Lord and will be constructed by John Weaver Contractors to achieve a BREEAM 'Very Good' rating and an 'Excellent' rating for energy.
"This development will significantly enhance the health offering for the Vale of Neath. Our team has carefully considered the requirements of the surgeries, pharmacy and health board to ensure that we build a facility that is sustainable and flexible for future use. We are delighted that work has started on-site to see this much-needed centre come to fruition." said Paul Stacey, HPC Wales Managing Director.
ABMU's Director of Primary and Community Services Hilary Dover added: "We are delighted that work is now starting on the site which will provide first class modern facilities for GP and community healthcare services to meet the needs of residents.
"As healthcare conditions change and develop, we need the space and facilities to provide appropriate treatment and services, which could not always be possible from the existing practice premises. I would like to thank all those involved with the project who have worked tirelessly over a number of years to progress this development for a truly integrated new primary care centre."
Superintendent Pharmacy Director Niki Watts said: "All the pharmacy team and myself are looking forward to the completion of the health centre and the new opportunities it will bring to serve the community.
"Up-to-date robotic technology will create more time to take up the welcomed widening role of community pharmacy. With three consultation rooms we will be able to continue, develop and improve our health services. Working under one roof with our health colleagues, this will enable us to offer a seamless, efficient and effective holistic service.
"It will be sad to leave the old shop but unfortunately, it could not physically meet the needs of the pharmacy's changing role. Whilst the building and location of the pharmacy maybe changing, our ethos and values of being a community pharmacy remain the same and will be at the heart of the health centre."
---