New full-service clinic nears completion in 40th year of IVF
---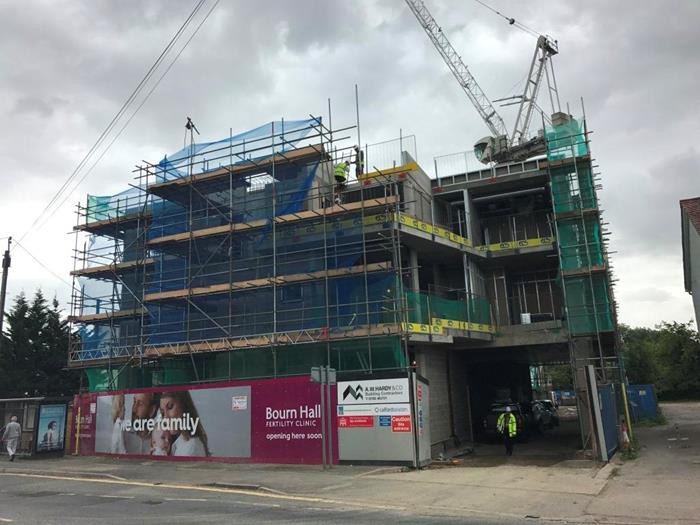 Early next year a new full-service clinic for IVF pioneer Bourn Hall will open its doors in Wickford, Essex. Forty years ago IVF was born at its Cambridge HQ – the first IVF clinic in the world – and Bourn Hall now offers services in seven locations.

The Wickford development is welcome in the current market which sees an increasing number of patients accessing the private sector for IVF. Unfortunately NHS funding is struggling to keep up with the current demand for IVF. Where funding is available on the NHS, there are often long waiting times. One in seven couples in the UK have trouble conceiving so it's not surprising that more people are accessing the private pay market.
The purpose-built centre in Wickford will offer fertility health checks and a range of treatments. If IVF is required the clinic will have its own state-of-the-art embryology laboratory so all treatment can take place on-site. It is the first time that Bourn Hall has commissioned a new build, and it is anticipated that it will form a blueprint for further clinics.
The Healthcare Property Company, as developer of the new clinic, has worked very closely with an experienced, innovative team of design and construction specialists to develop a high spec facility which meets the exacting requirements of Bourn Hall – from the intricate workings of the cleanroom laboratories to the application of the strong brand elements to deliver a similar patient experience throughout the design of their facilities. This consistency will provide a relaxing, human atmosphere, and a place of support – the founding vision of Bourn Hall. As much as science plays a huge role, the process can be an emotional rollercoaster so aftercare and counselling are essential.
The set-up of the laboratory is the key to IVF success. The development of the clinic needs to take into account the requirements of the fertility embryologists and specialists as well as the equipment required in the cleanroom: each laboratory has its own unique features and workflow. Add to that the requirements of the non-technical areas – consultation rooms, changing rooms for patients and recovery spaces.
---